Competent Deer Stalker Training
– Foundation Skills Course –

Our highly developed Competent Deer Stalker Foundation Skills Course teaches fundamental marksmanship techniques and knowledge that will provide you with a solid foundation at the beginning of your deer stalking journey. The course has been designed to improve your confidence and ability in using a deer legal rifle in the field and provide an essential repertoire of skills and knowledge that can be practically applied in the field.
In our intensive one day Competent Deer Stalker Foundations Skills Course*, you will learn:
* At the end of this course you will be confident in your rifle shooting skills to cleanly dispatch a deer, have a good understanding of ethical and sustainable deer management , be able to identify the different deer species and much more!! For people wishing to apply for a Firearms License now or in the future, you'll know how to fill in the paperwork and be able to use the course certificate as proof of training.

Course Cost £595*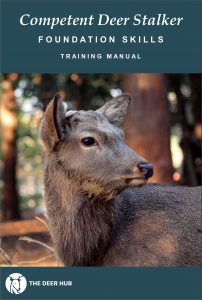 Included in the price:
O

ne on One training

with one of our professionally qualified instructors
Use of a precision rifle/scope, binoculars, all ammunition and stalkers equipment
72 page full colour training manual
PPE – ear and eye protection
Lunch and refreshments throughout the day
Shooting and multiple choice theory test in the afternoon
Competent Deer Stalker

Foundation Skills Certificate
*No prior knowledge is required for this course, which is suitable for both novices, non FAC certificate holders and deer stalkers with some experience. A Gift Voucher is available to purchase this course.

TO BOOK CALL

0203 995 5881 /0789 414 6643 TODAY


Key Info:

Availability | Courses run Monday to Saturday each week throughout the year. Courses can usually be arranged with as little as 48 hours notice.

Participant Guidelines | Minimum age is 17 (children under 17 may attend with an adult, but will not be permitted to shoot). We are able to accommodate people with disabilities at some of our venues (please check when booking).

Duration | The course starts at 9am and finishes at 5pm (other times can be accommodated upon request).

Venue | We offer this training course in  7 locations in the South of England and is delivered in an outside environment, not in a classroom. For people with access to their own land, by arrangement we can also deliver this training at your location, please discuss with the office staff when you call.
To

book your training

day or to find out more about our the Competent Deer Stalker Foundation Skills Course email us or call

0203 995 5881 / 0789 414 6643 

for more information

I contacted the Deer HUB because I was looking to take up deer stalking. The provenance of the food I eat is important to me, so ultimately, I wanted to be able to put food I had shot, butchered and prepared myself on the table for me and my family to eat. The Foundation Skills course was very comprehensive and has really given me a great start on my quest. I now look forward to going out stalking and developing my skills further with the Deer HUB team.
The Foundation Skills course that the Deer HUB delivers is so much more than just an ordinary training course. With one on one tuition, I now feel much more confidence with my rifle shooting and along with the new knowledge I have gained, am now excited about putting my new skills to the test in the field. The training was delivered with the utmost professionalism and is definitely the best training course I have ever attended; I cannot speak highly enough about the whole experience.
From the moment I arrived, I was greeted by James with a big smile and a warm welcome. His approach was personable, patient and engaging. Although I had been on several deer stalking outings over the years, I soon discovered that I knew very little. I am pleased to say that the training has firmly put me on the right course and the shooting skills/knowledge I gained will stay with me for the rest of my life. I now feel far more confident – thank you James.